As summer comes to an end, we're looking forward to cooler days and lots of fall color here in Nashville. Are you looking for some inspiration for your garden this season? Look no further. At Bates Nursery and Garden Center, we have everything needed to help your garden reflect the changing season. Below are some plants that will bring beautiful fall color to your yard.
---
Trees
Acer saccharum (Sugar Maple)
This is an obvious first choice for a tree with showy fall colors. Popular in the Northeast, Acer saccharum can also grow well in Tennessee. Expect yellow and orange foliage in the mid- to late fall.
Acer rubrum (Red Maple)
Acer rubrum (Red Maple) are true to their name during the fall season. The leaves turn a rich red in the fall months-typically late October or November in the Nashville area.
Ginkgo bilboa
The unique shape of the Ginkgo bilboa leaves will add some year-round interest to your landscape. The foliage turns a brilliant yellow in the fall season.
Lagerstroemia (Crape Myrtle)
Expect vibrant flowers through the summer months and round seed-pods in the fall. The leaves also change colors with the seasons. You can expect colors ranging from bright red to burgundy depending on the variety.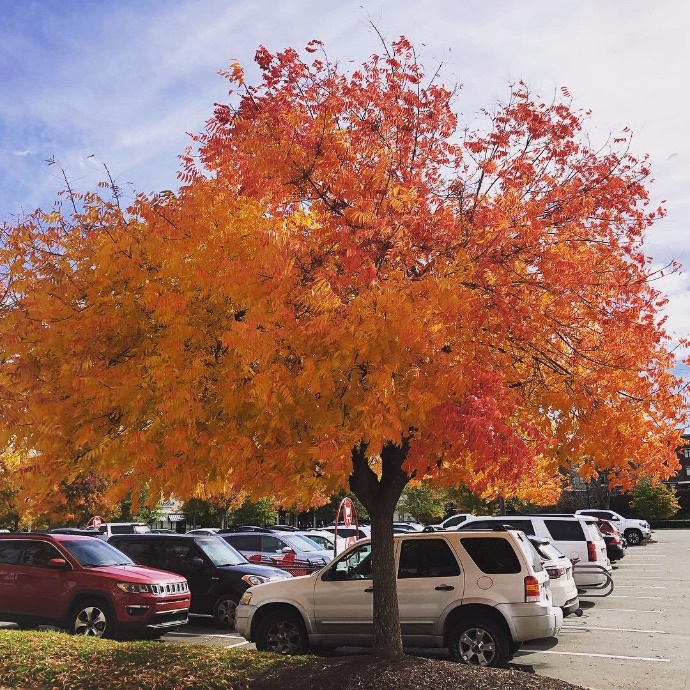 Pistacia chinensis (Chinese Pistache)
This versatile deciduous shade tree grows well in full sun. In the fall Pistacia chinensis turn a vibrant red-orange color.
Acer palmatum (Japanese Maple)
Another fall favorite, Acer palmatum offers a range of fall color. Both weeping and upright varieties are available. In the fall, Acer palmatum puts on a show with a palette of colors including deep reds, oranges, and yellows.
---
Shrubs:
Aronia (Chokeberry)
Aronia flowers are white and bloom in the early summer. In the late summer, those flowers turn to berries that are great for attracting birds. In the autumn months, the foliage turns bright red and orange. This shrub thrives in wet soil, and is native to the Eastern United States.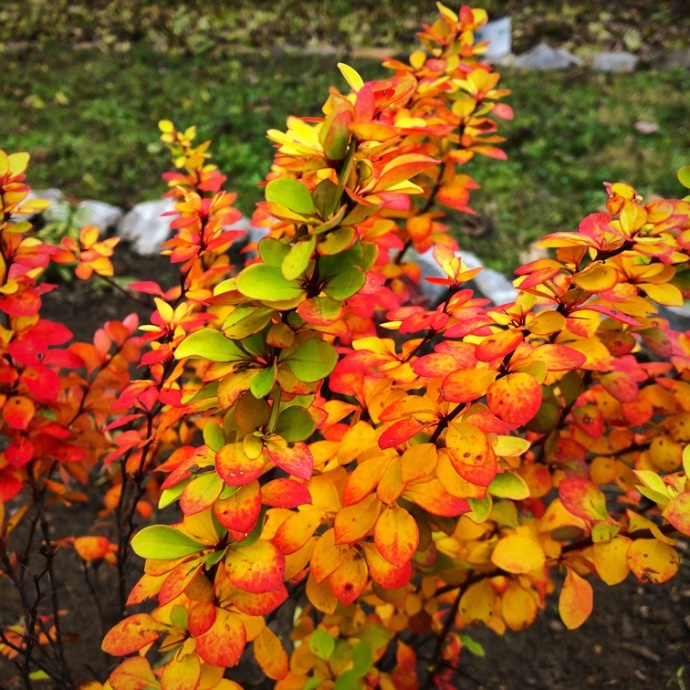 Berberis (Barberry)
Berberis (Barberry) is a deciduous shrub that pops with fall color. You can expect reds, oranges, and yellows to be prevalent in the fall.
Euonymus alatus (Burning Bush)
The Burning Bush is a lovely fall choice for your garden. Greenish flowers give way to ornamental berries and vibrant red fall color in the fall months.
Fothergilla (Witch Alder)
This shrub has leathery leaves and fragrant wispy flowers in the spring and summer months. In the fall, the texture-rich foliage turns a bright orange-yellow color.
Hydrangea quericifolia (Oak Leaf Hydrangea)
This hydrangea variety gets its name from its broad leaves that resemble oak leaves. During summer, the panicle flowers are a bright white, transitioning to pink and then a dry rust color as the days shorten. In the fall, you can expect the leaves to change to a deep burgundy color.
Itea virginica (Virginia Sweetspire)
This shrub is native to the Southeastern United States and does well in wet soils that receive plenty of sun. The spring flowers are long and feathery, drooping toward the ground. In the fall, the foliage turns orange, red, and yellow.
Lagerstroemia (Crape Myrtle)
When you plant a Lagerstroemia tree or shrub you'll be rewarded with showy blooms during the summer and colorful foliage in the fall. The various varieties turn different colors, from deep red to light yellow.
Rhus (Sumac)
Rhus shrubs offer fiery fall color as the seasons change. In the summer and throughout the fall the female plants develop large berry clusters that stand upright on the branches.
Spiraea 
Spiraea are dense, low-growing shrubs that have showy flowers that attract bees and butterflies. The foliage turns bright orange and yellow during the fall months.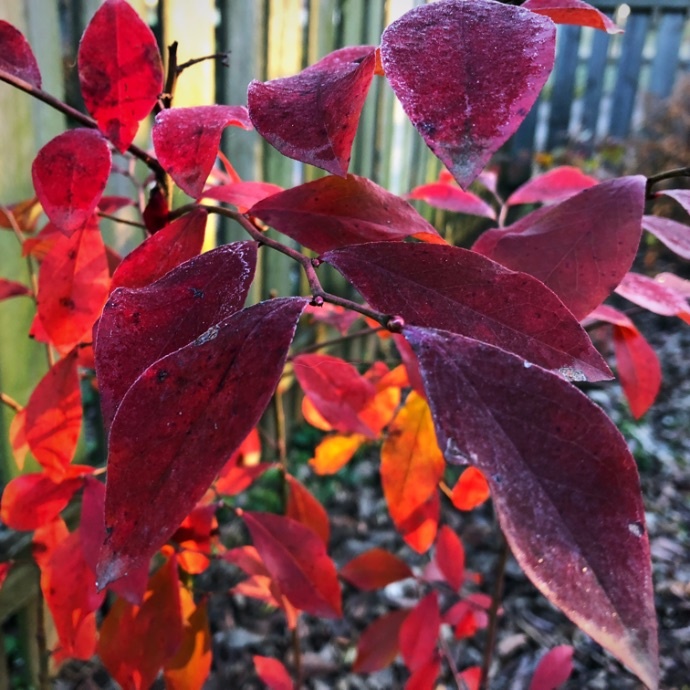 Vaccinium (Blueberry)
Blueberries are often planted for their edible fruit, but they can also serve ornamental interests. The leaves turn orange and red in the fall months, adding beautiful color to your garden.
---
Fall Blooming Perennials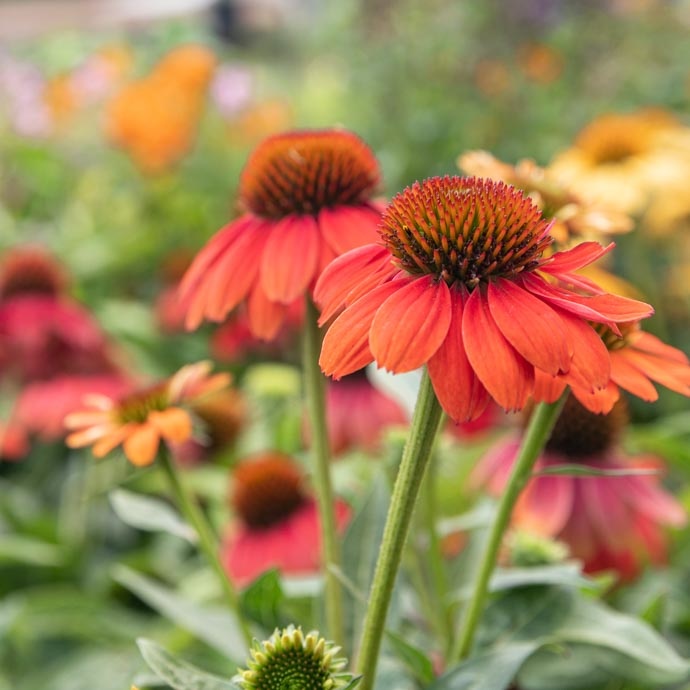 Echinacea (Coneflower)
Echinacea thrives in well-drained soil and full sun. They bloom summer into fall. A variety of colors and sizes are available to suit any landscape. The seed heads also make great snacks for our local birds.
Eupatorium coelestinum (Blue Mistflower)
This member of the aster family is native to the Eastern United States. Its native habitat is in streambeds and wood margins. It is a great low-maintenance addition to the garden. Clusters of small blue or violet flowers bloom in the fall.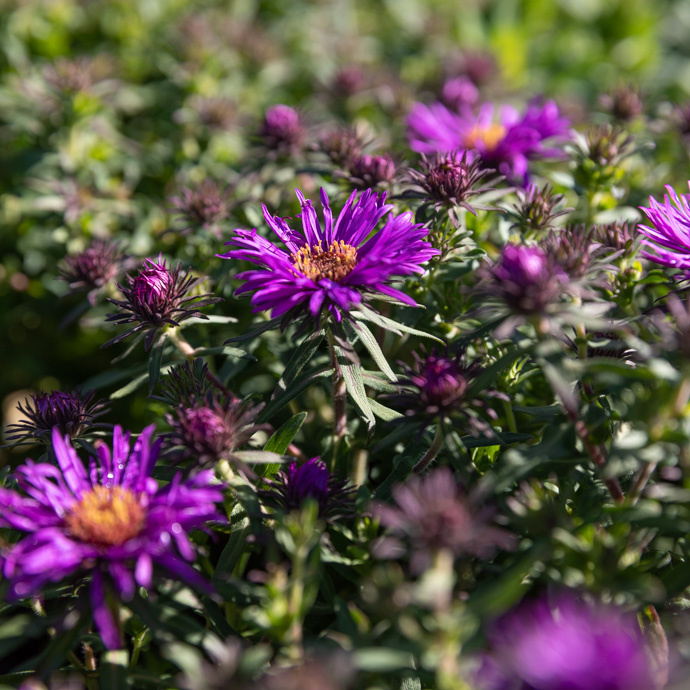 Asters
Asters bloom in whites, blues, and purples in the late summer/early fall. They are hardy and reliable perennials. They also attract bees and butterflies, great for fall wildlife watching.
---
Additional Interest: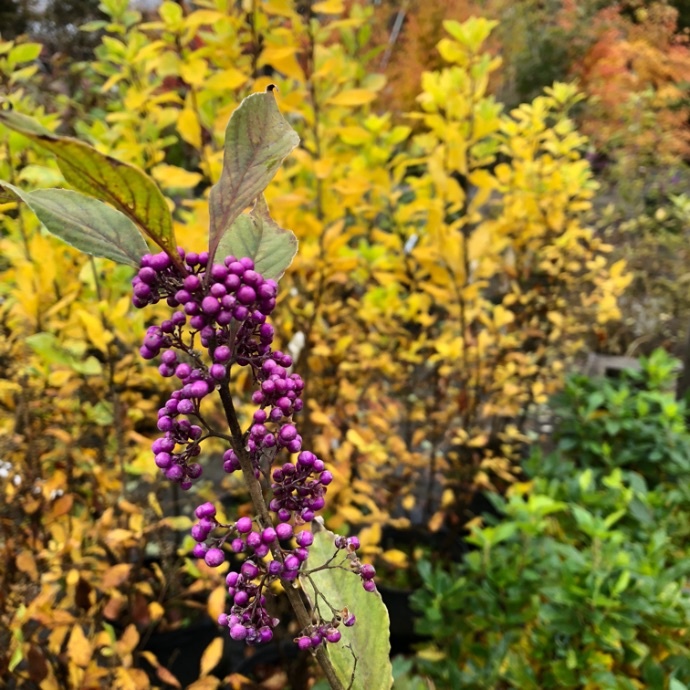 Callicarpa Americana (Beautyberry)
This shrub grows to be 4'-8' tall, and flowers in June. Those flowers then turn into brightly colored berries. The berries encircle the stems of the shrub and add some beautiful fall interest as the seasons change.
Pyracantha (Firethorn)
This shrub excels in full sun and well-drained soil. You'll be rewarded with clusters of bright red berries as the days turn cooler.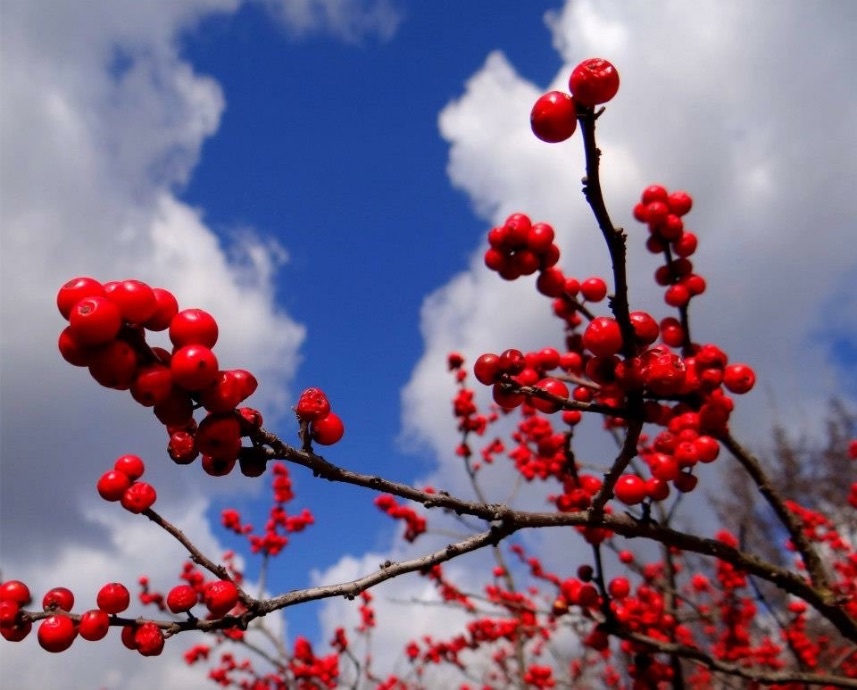 Ilex (Holly)
Many varieties of holly can be grown as evergreen trees or shrubs. In the fall, female Ilex develop bright red berries.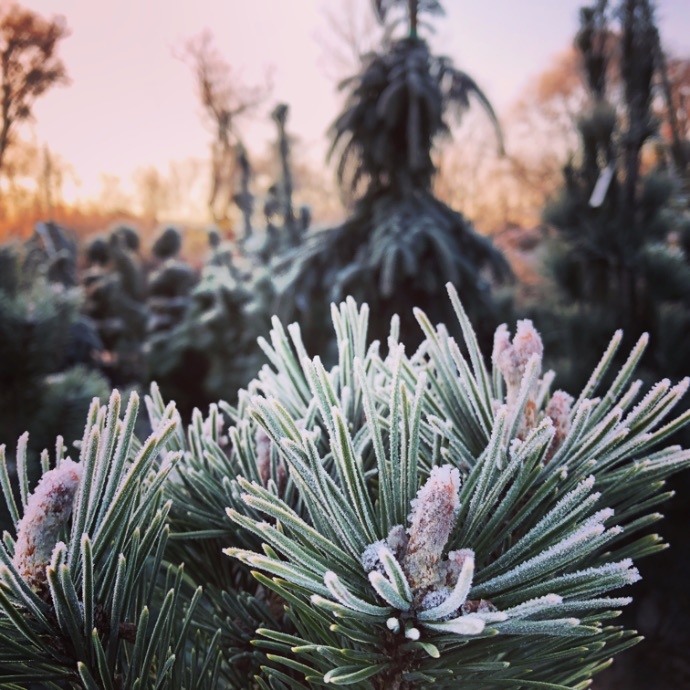 Pinus (Pine)
For year-round interest, pine trees are a wonderful choice. These coniferous trees keep their needles through the winter. In the fall, the trees produce pine cones. The pine cones and pine fronds can be collected and used for winter displays.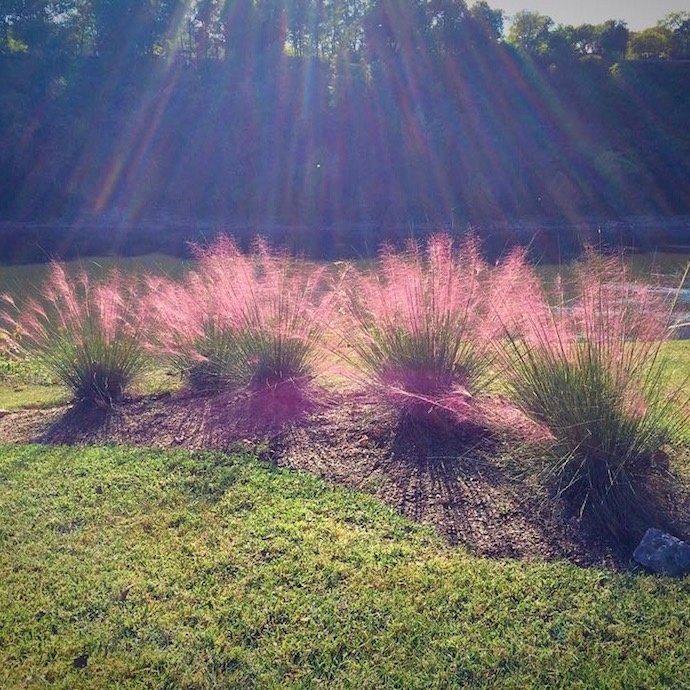 Ornamental Grasses
Ornamental grasses are a great filler to add texture and color to any landscape. In the fall, many varieties turn bright fall colors and develop decorative plumes.
Amsonia hubrichtii
This stately perennial has wispy, needle-like leaves, giving it an airy appearance in the garden. The leaves turn brilliant yellow in the fall months. Amsonia hubrichtii pairs wonderfully with ornamental grasses and fall-blooming perennials.
---
Add some fall interest to your Middle Tennessee garden. Fall is the perfect time to plant that tree or shrub you've been eyeing—the wet winter months will allow plants to develop hardy root systems with minimal supplemental watering. Beautify your Nashville home, garden or landscape this fall. We'll see you soon at Bates Nursery & Garden Center.