Come visit our completely new, and greatly improved, perennial area…the gravel and weeds are gone!
Summertime at Bates Nursery generally means we have been working on projects.  This summer has been no exception.  The time finally arrived for me to make good on my promise…of several years: Upgrade our perennial area.  This project was way overdue.  It would seem every project is way overdue.  We have been fortunate to be in business in Nashville for 87 years.  We have been at the current location since 1958 and the garden center was built in 1975.  The problem is that time marches on. Structures that were new just a few years ago now seem to need repair.
So our good fortune to have been in business all these years comes at the expense of Father Time.  Everything we have requires methodical maintenance.  I guess that is why concrete is such a good product.  That is precisely why we have chosen concrete to replace the gravel in the perennial area.  It tends to last a long time without doing anything to it.  In the short term it is not the cheapest choice, but time travels so fast that it won't be long before a decade will have passed, and that concrete will still look pretty much the same.
We didn't stop with just putting in concrete.  We also added posts and greenhouse structure to provide improved growing conditions…and shopping conditions.  By the way, the trucks have rolled in this week.  If you came out last weekend and took advantage of the big sale, you may have noticed we looked a bit thin in inventory selection.  We were.  No more.  Our new perennial area is now fully stocked and ready for your perusal!  In addition to perennials, we have received shipments of trees, many shrubs, beauties from the west coast... and much more on the way!
We again have many perennial favorites in stock for you.  Remember to bring along photos on your smartphone or tablet; we'll help you get the right plants, in the right place, the first time!
David Bates
Before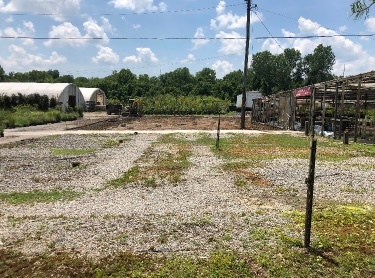 After