Melissa McKay, Annual Greenhouse Manager at Bates Nursery & Garden Center Nashville, leads this webinar on the basics of creating stunning fall container gardens. She offers tips and tricks to keep your potted arrangements looking healthy all season long, as well as composition suggestions. 
Supplies needed for potted gardens:
A frost-proof container (if planting outdoors) with a drainage hole in the bottom.
A coffee filter-place a coffee filter over the drainage hole so that soil doesn't leach out.
If planting a big planter, place milk cartons or foam blocks on the bottom of the planter. Plants need about 12' for their roots, so drop the filler cartons in the bottom of the container and fill the soil on top.
EarthMix Proganix-O is formulated specifically for outdoor containers, and has added nutrients for plant health. It also has components like expanded shale and vermiculite that help with drainage.
Pro tip: 
Plant spring bulbs like daffodils, tulips, and hyacinths under your fall planting for a container garden that spans the season!
Arrangement Inspiration:
Formal Fall Arrangement: 
Spiral Juniper
4 Algerian Ivy
9 white pansies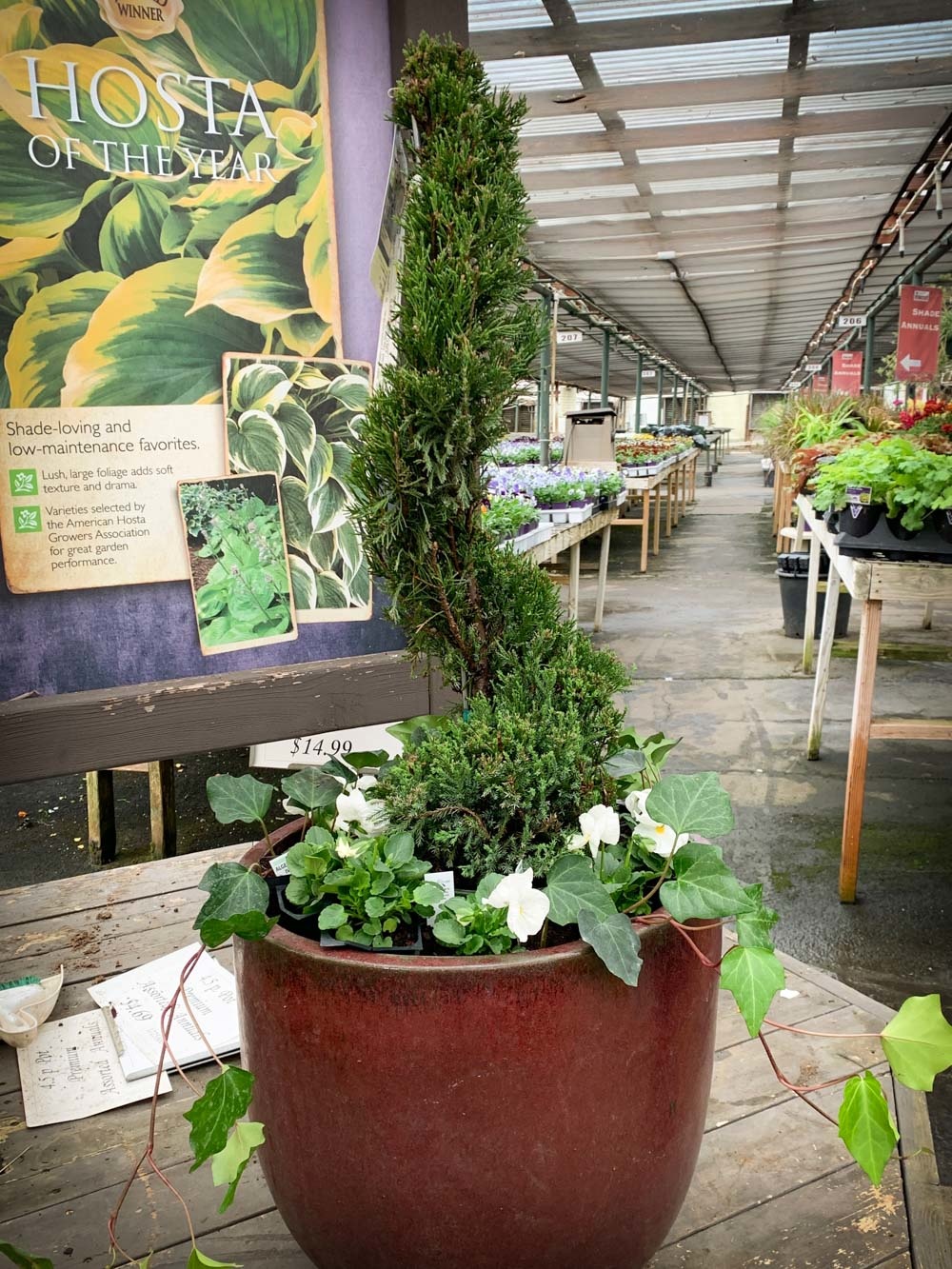 Autumn Color Fall Arrangement:
Autumn Fern
Amber Lady Heuchera
Coral Bark Japanese Maple
Everillo carex
2 Algerian Ivy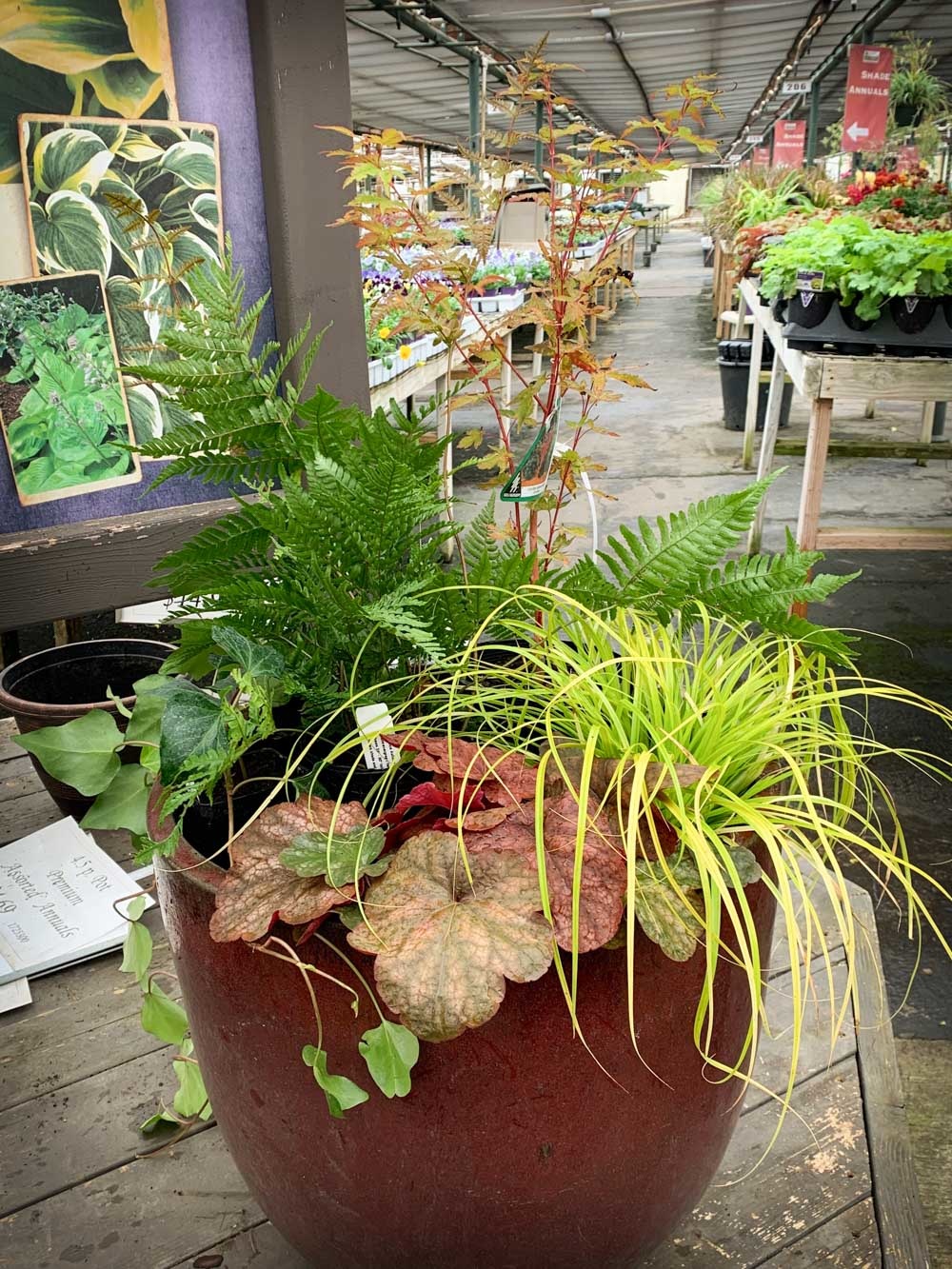 Fiery Fall Arrangement:
Golden Mop
Barberry
Scarlet Bor Kale
Red Rooster carex
Swiss Chard
6 Solar Flare pansies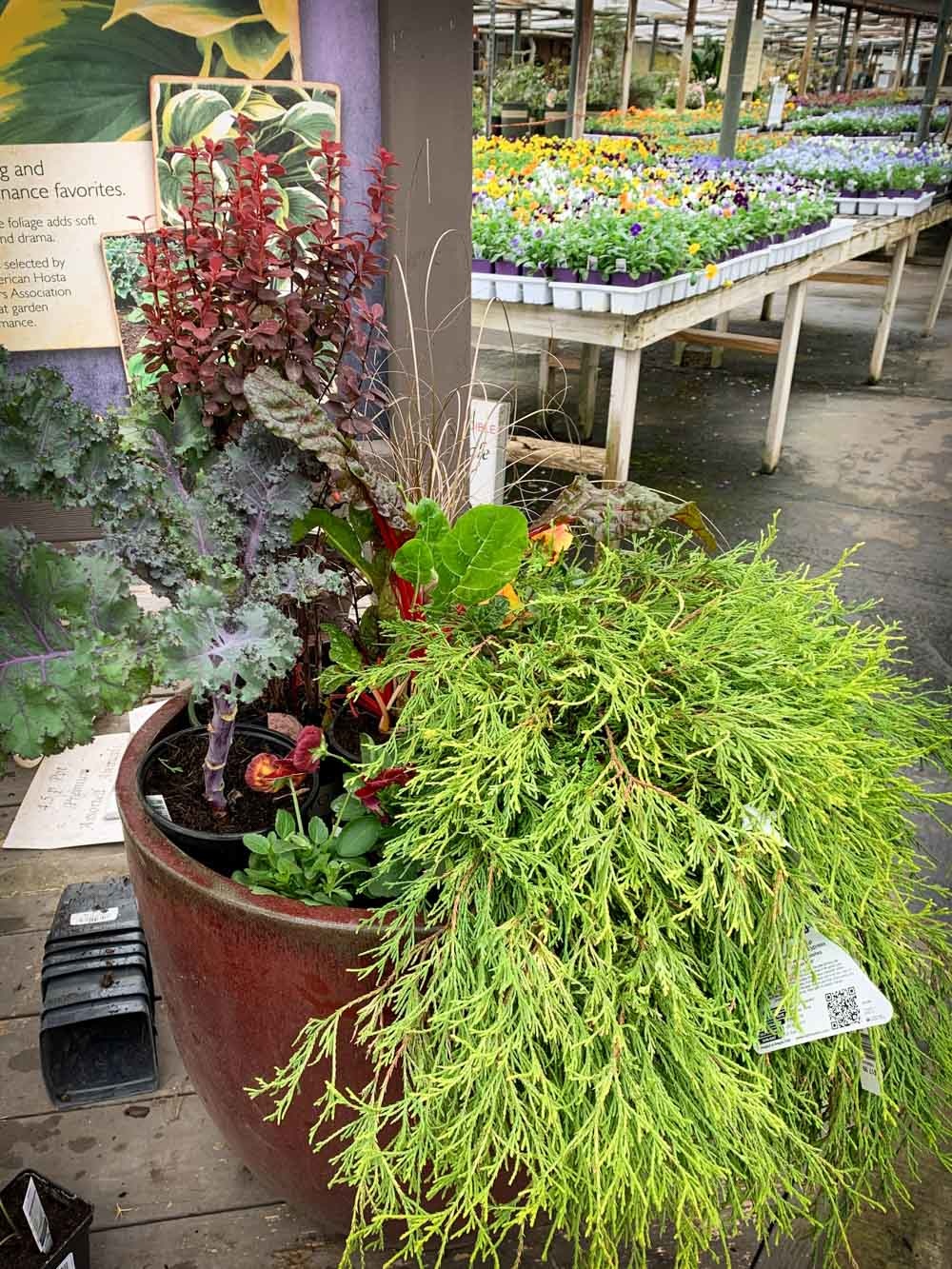 Perennial Fall Arrangement:
Leucothoe
Autumn Fern
Stainless Steel heuchera
Wintergreen 
Rudbeckia
Millet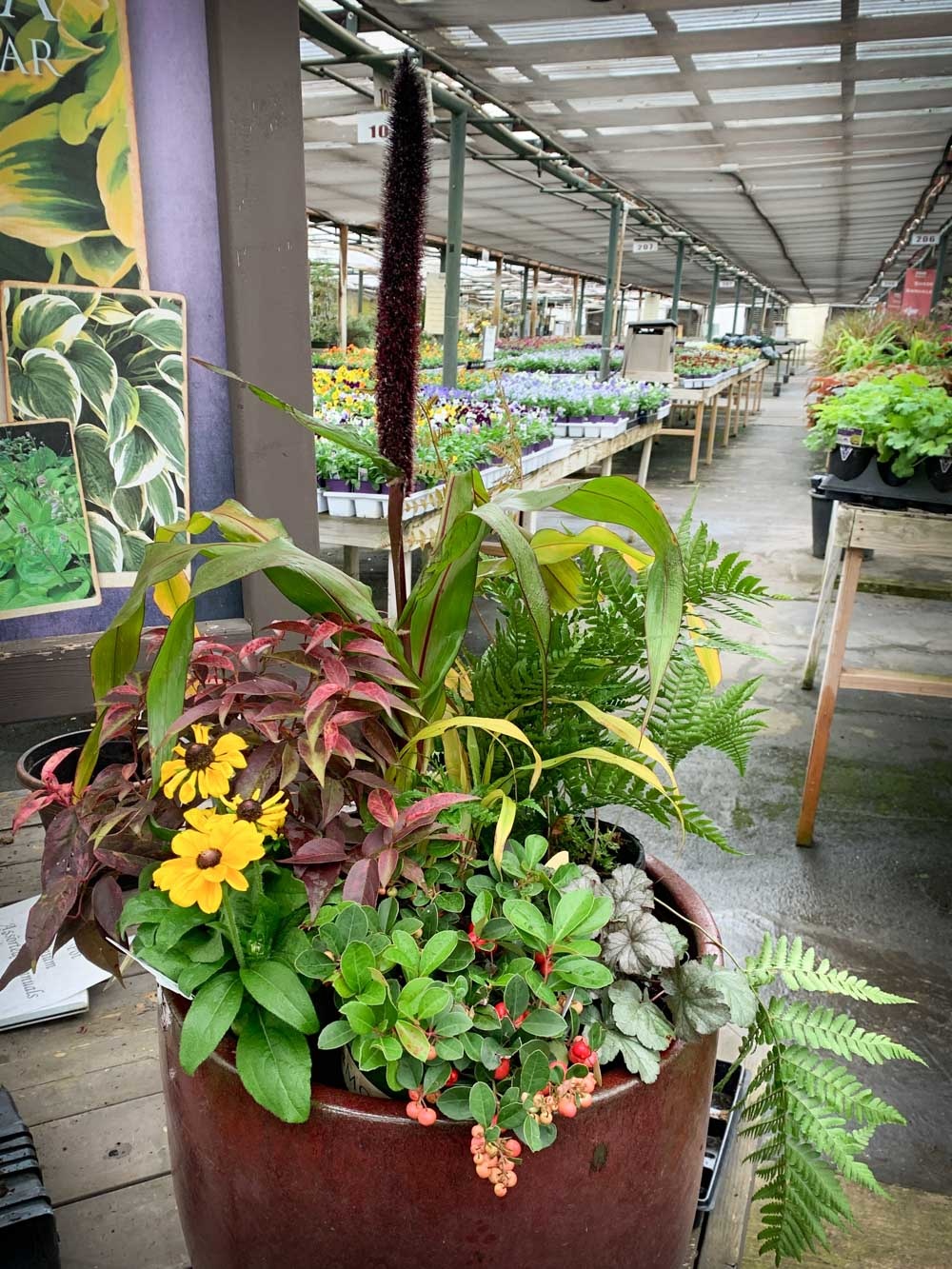 Classic Fall Arrangement:
Emerald arb
Flirt Nandina
Caramel heuchera
Mint Ivy
Acorus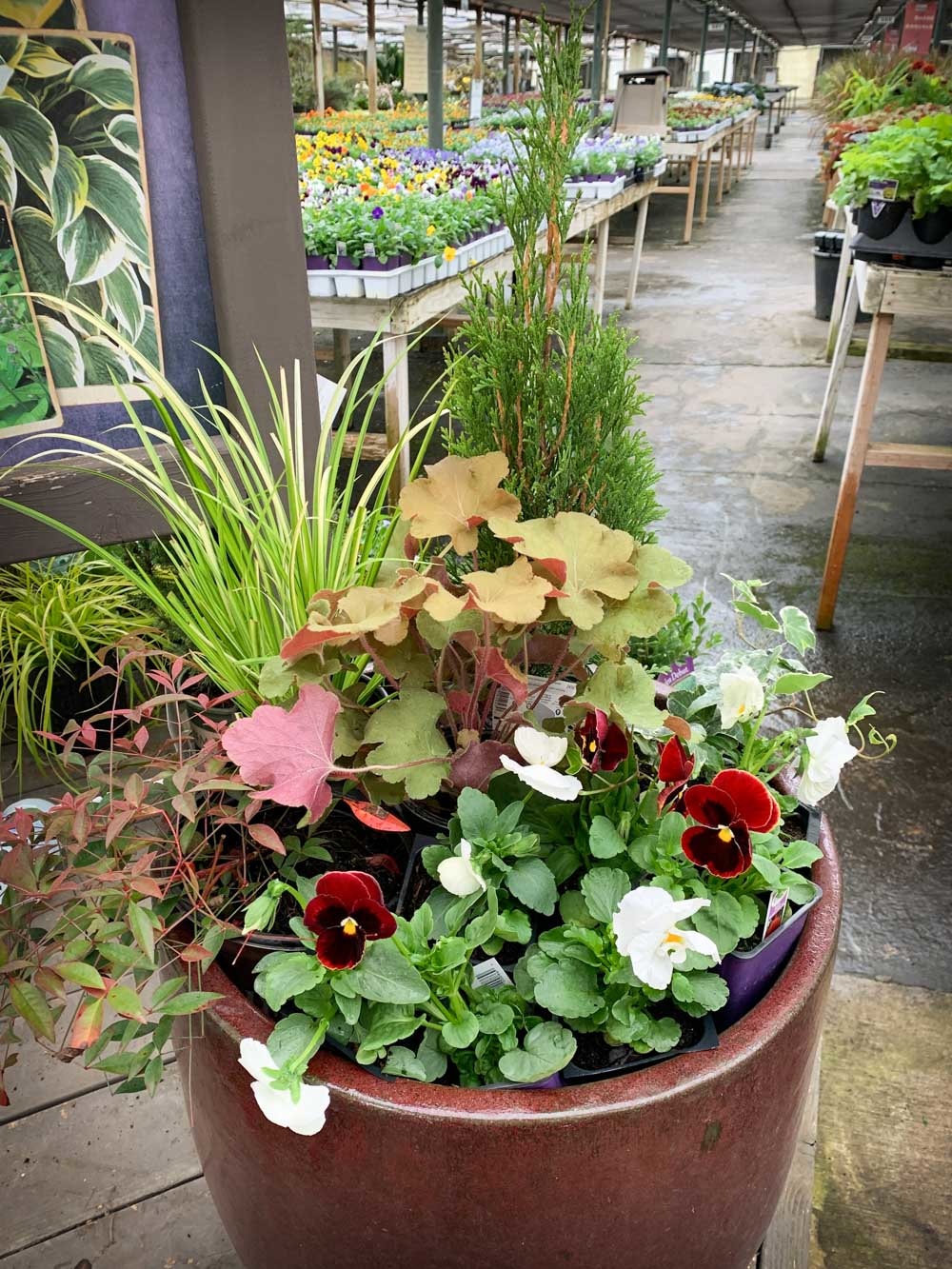 Colorful Fall Arrangement
2 coral bark Japanese Maples
Blue pacific juniper
Ascot rainbow
Blue zinger carex
Plum pudding heuchera
Medusa ornamental pepper
4 red w/ blotch pansies
Creeping Jenny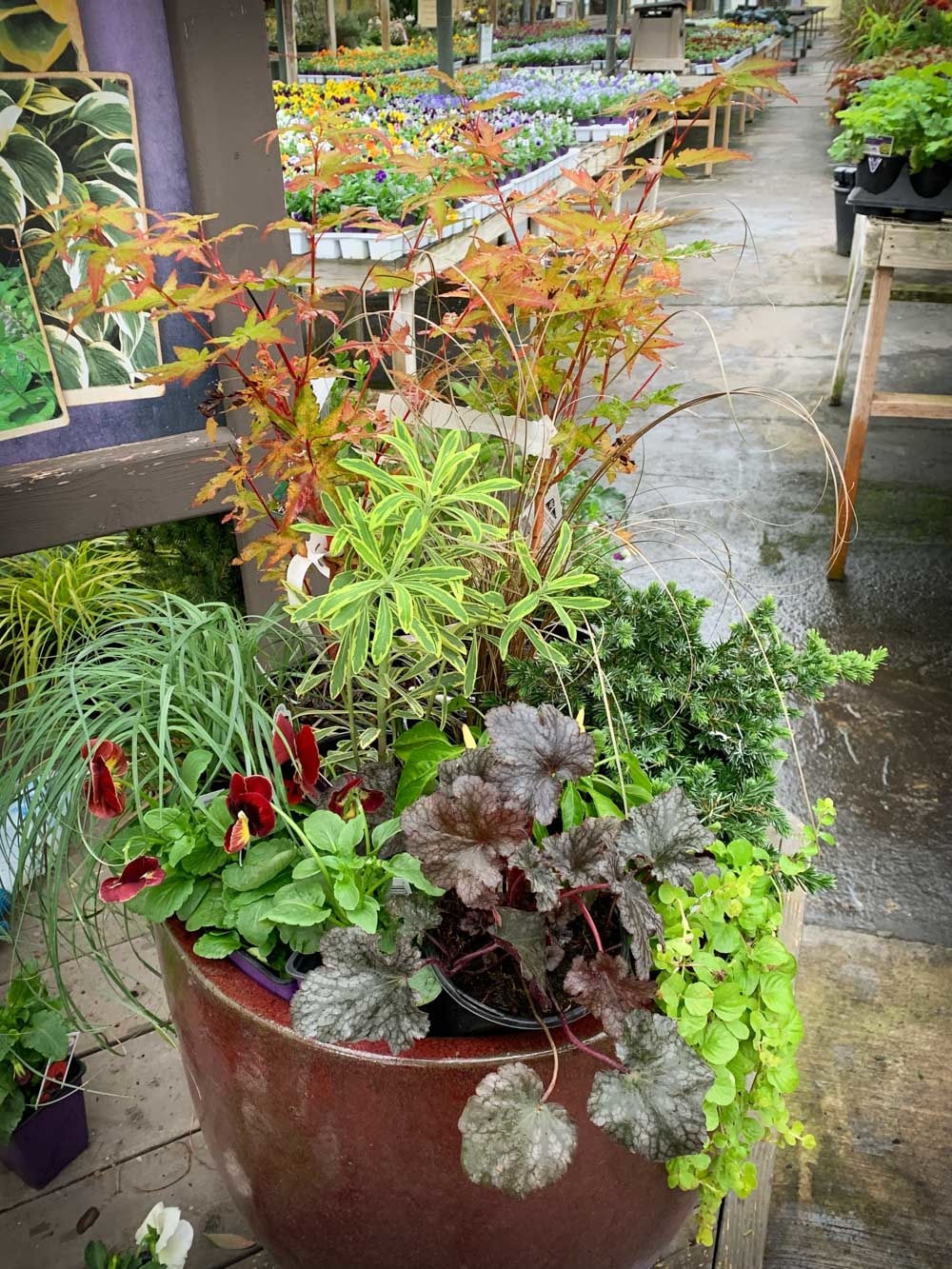 Simple & Elegant Fall Arrangement
Holly
White kale
Juncus
2 6P Beaconsfield pansies
Algerian Ivy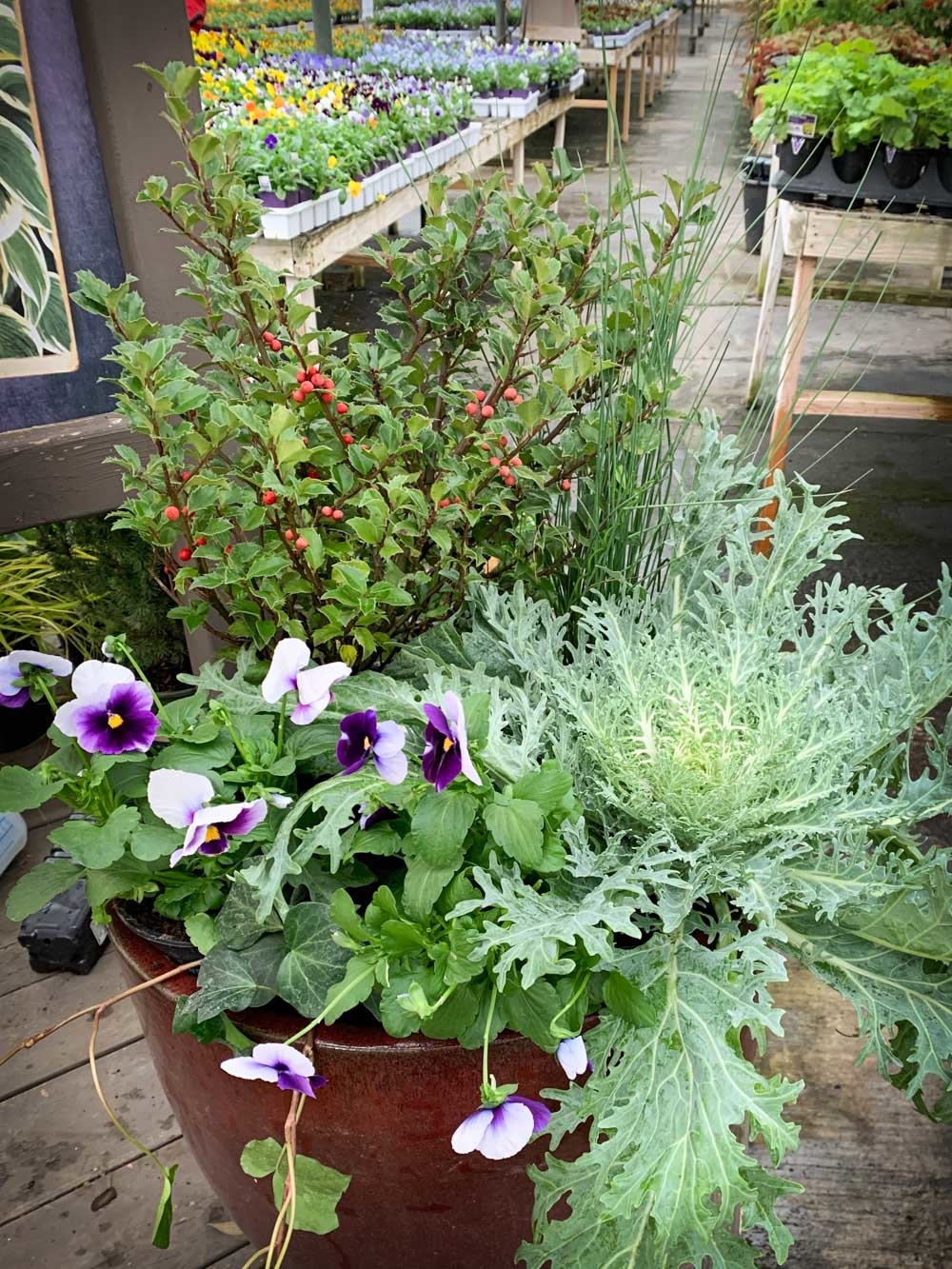 Fragrant Fall Arrangement:
Alberta Spruce
Coral Bark Japanese Maple
Juncus
Frosted Violet Heuchera
Boxwood
6P White Wave pansy
4 delft blue violas
2 4P thyme